Today I want to share a post I ran across that cleared up a lot of the confusion I have always had when purchasing my knives. I probably could have learned all this on my own if I'd been diligent enough, but never really considered the ramifications of the different types of steel used in my collection of blades. (I carry anywhere from 3 to 12 knives at ALL times, from a keychain knife up to my Kukri, depending on where I am).
Anyway, I found this fairly enlightening, even though I did know at least the difference in stainless and non-stainless, at least as it pertains to keeping an edge and rusting at the first opportunity!
Understanding Knife Metals – Stainless & Carbon Steel
---
As an equipment mechanic & welder I have a basic to intermediate understanding of metals, in particular steel & stainless steel. Stainless steel being most familiar to me like 304, 304L & 316 stainless steel are metals I work with on a daily basis. As I further my knowledge in bushcraft & enjoy the looks, feel & engineering behind good quality knives I felt that I should better educate myself to not only further my knowledge in basic metalurgy but to also be a better informed consumer. The internet is full of opinions & I've been told by someone I trust that not every opinion deserves consideration so knowing for myself is preferred over someone else telling me.
What I'd like to do is describe the most common types of steel used in knife making. It will be just a few of the most common, I'm not going to get that deep into metalworking & bore you all to death. I will use examples that I'm familiar with myself in knifes I owe & knives known by most bushcraft & outdoor enthusiasts. I'm not looking to make any recommendations for any of these knives, I just want to use the knives as an example of the type of steel they use.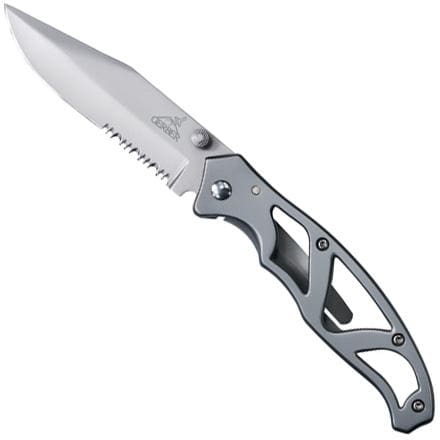 This knife would be considered my everyday carry. I picked it up on clearance a few years back at Cabela's for about $10, so I definitely didn't overpay for it. This knife is made in China so the overall quality is not up to most standards of outdoors-men. From what I found on this knife it is described by Gerber as "surgical stainless steel." Surgical stainless steel is type 316 stainless steel, the second most common type of stainless steel. 316 is a better quality of stainless steel when considering it's resistance to corrosion. According to charts I've read, 316 has a very low carbon content at about .08% by weight which means highly resistant to rust. My research has found that the typical hardness of 316 is Rockwell B80-B90 which puts it in the neighborhood of a harder-soft metal similar to hard copper, malleable iron & aluminum alloy. Easy to sharpen, easy to clean but not very tough so this is not your number 1 bushcraft knife. In my own experience with this blade is it doesn't hold an edge very well, or I should say for very long & that is the reputation of a knife like this. I regularly touch it up with a sharpening stone to keep it sharp to cut objects like rubber hoses, open cardboard boxes & cutting hard plastics. I can put an edge on it that I would shave with but I think after one pass over my beard it would be dull again. All said & done, this knife is on the low end of the quality spectrum. For an everyday pocket carry that you will probable break & lose it is worth $10.
This is the Leatherman Rebar, made of 420 high carbon stainless steel. The Rebar comes with me in my haversack 100% of the time that I go into the bush. Made in the good ole' USA & a reputation behind it, you can put your confidence into the performance & quality of this tool. Dealing specifically with the two knives in this tool, they are 420HC stainless steel. To be clear, 420 is not 420HC. The HC stands for "high carbon" & will give you a harder knife that will out perform a 420 blade. Even with the high carbon content it still makes it very resistant to corrosion which makes 420HC a typical steel for cutlery. Compared to the above knife the carbon content percent is almost double in the 420HC which after heat treatment makes it a very hard blade with a Rockwell hardness in the upper 50′s. 420 stainless steel also gets the name of "surgical steel" attached to it as well. This knife in every way is a step above the Gerber but will still not hold an edge as long as you would like. In my case, I can look at my blade the wrong way & get cut by it, it is a razor. That razor edge will act as my emergency surgical knife if put in a bad situation. In my opinion it is still on the lower end of quality when it comes to edge retention, better than the Gerber, but still loses it's edge when it's put to the test.
"The ultimate survival tool." A product that is as controversial as gay marriage for some reason but I'd like to stay out of that conversation & just give the facts as best I could. My wife has this knife & it comes along with us on our dayhikes. To stay as professional as I can let me just say that the ferro rod strikes well off the back & is easy for a non-bushcraft experienced person to use. The half serrated & half straight edge is perfect for my wife to use for different tasks to make things easier. When we go camping & hiking I like to give her the responsibility of starting the fire, so I collect the materials for making fire & let her use what I've taught her & she uses this knife & starts a fire every time. The best I can come up with is this is 440 stainless steel. There are a few types of 440 stainless steel types available & when it's not specifically mentioned you have to assume it's the lower carbon version in 440A. 440A has a carbon content of about .7% compared to 440C with a carbon content of 1.2% meaning a tougher & harder knife. With the cost of about $40 for this knife you can assume it is 440A, giving it a very high corrosion resistant quality. What I'm assuming is that it's cheaper to make this in 440A & also the lower carbon will make it difficult to rust & Gerber will get less complaints about rusty knives. Made in China like the paraframe Gerber above, the quality in materials is simply just not there. However, in my opinion this knife is not complete junk & it does have it's place. Good is the best word I can use to describe this knife, just plain good. Easy to sharpen, holds an edge ok & will likely never rust, this 440 stainless is a very good knife for the "weekend warrior" to use on occasion when they go camping once a year.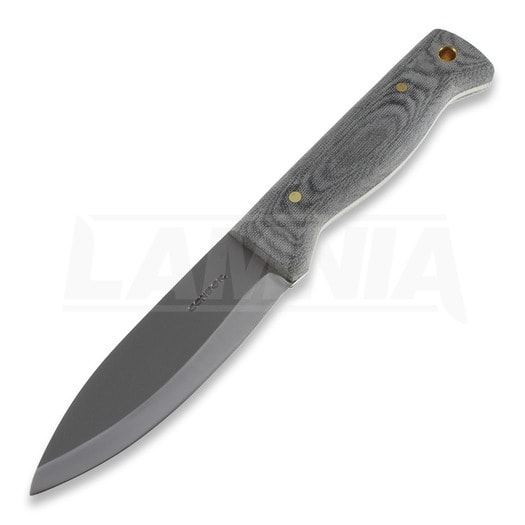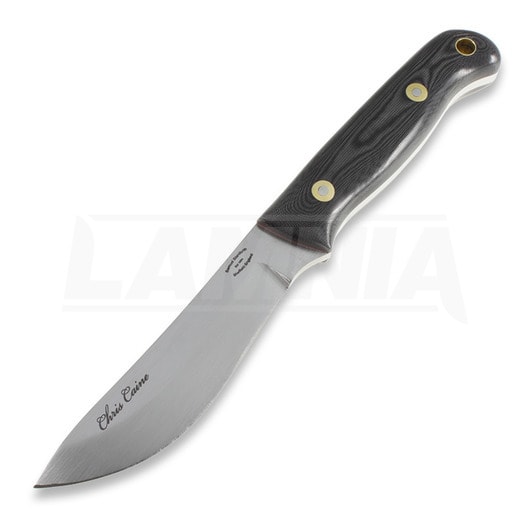 We are about to make a leap from stainless steel to carbon steel, specifically high carbon steel. The first is the Condor Bushlore & to the second is the Chris Caine Survival Knife. This is where we start calling knives a "bushcraft" knife, both made from 1075 high carbon steel. 1075 means it's a carbon steel (10) & the 75 means .75% carbon by weight. 0.6% & above is considered "high" carbon steel & 1.0% & above is considered "ultra high" carbon steel. Simply stated, the higher the carbon content the harder & tougher the knife is. This also means that the more carbon in the steel the higher probably of rust comes with more carbon. High carbon steel knives tend to hold an edge very well compared to stainless steel, the edge is less likely to roll over because it's much harder. Also, with a higher quality steel & less likely to bend you can get a sharper edge with high carbon steel. I own the Condor Bushlore & it's a wonderful knife for the cost. I've done quite a bit of woodworking with this knife & I have no complaints about the quality & edge retention. The Chris Caine Survival Knife is just a beefy'r & badass'r version of the Bushlore, in my opinion. It's almost twice as thick, longer, nice looking with a higher quality handle & assembly. If I forget to mention this before, I am far from a knife expert & if you ask me to explain the difference in these two knives whatever I say could be a load of crap, I'm just going by what I've read. You can buy 3 Condor knives for the price of 1 Chris Caine. From what my research has told me is that first you can see the difference in the qualities I just listed. More steel cost more money. Quality control in materials is such an important factor not only in knife making but everything down to TV's, shoes & all the way down to a can of vegetables. I would imagine the Chris Caine knife is flawless & perfectly made. Heat treatment of the metal is also an important variable that I don't have the knowledge to speak on but I have learned that in life you get what you pay for. In my opinion, the Condor is a knife you will have for the rest of your life, the Chris Caine knife is the knife your children's children will have the rest of their life.
A classic knife that most of us are familiar with, the Old Hickory butcher knife by Ontario. Made of high carbon steel like the two knives above but made of 1095 high carbon steel. 1095 means a .95% carbon by weight steel. It has very similar properties to the two knives above but with a higher carbon content it is more likely to throw sparks when you strike the blade with flint. The higher carbon content also means it should hold an edge a little better than the 1075. With more carbon comes a slight drawback in that it has less flexibility, meaning it is a little more brittle than 1075 meaning a little less forgiving. With 1075 & 1095 you will have to learn to keep good care of these knives because they are more susceptible to corrosion, keep them oiled. The opinion of many say that a 1095 steel knife is the best all around bushcraft/survival knife when you weight all the pros & cons. With proper heat treatment, both the 1075 & 1095 high carbon steel knife makes them one of the hardest knives according to the Rockwell hardness scale categorized as "very hard" similar to machine tools, but not as hard as tool steel.
photo by thepathfinderstore.com
The pinnacle of knife steel, the O-1 tool steel. Simply put, it's steel used to cut other steel, nuff said. This is the Pathfinder Scout offered by The Pathfinder Store & Self Reliance Outfitters. O-1 stands for oil quenching with a .9% carbon content. Edge retention is not a factor with this knife, O-1 will hold an edge better than all the above knives. Even with the .9% carbon content, the other elements that make up the steel make them more resistant to corrosion than you would assume. The quality control in making this tool steel is superior to the other steels meaning you will get a uniform composition. I don't have the education to describe the techniques in production but what I have learned is that heat treatment is key factor in the type of tool steel you will end up with. During the hardening process the metal is quenched in oil to cool, it is cooled to a particular temperature then the rest of the process is air cooling. This process compared to the others make the O-1 type the preferred type for knife making. Not all knives are created equal, the Pathfinder Scout illustrates that. While I don't own this knife & probably will not plan on purchasing a knife of this high value for my "weekend warrior" trips but I am familiar with tool steel. My profession allows me to come into contact directly with tool steel, specifically for making tools such a punches & driving tools to perform maintenance on equipment. When you work with this steel, just holding it, using it & processing it down to make tools you can tell that you have something different here, something that is unlike other steel.
References I sourced for this article: thepathfinderstore.com – Wikipedia
I've also picked up a decent amount of knowledge through hands on experience
.